Between April 22 and May 3, 2004 this website allowed you to design enormous light sculptures in the sky over the city of Dublin, using 22 robotic searchlights placed around O'Connell Street. The beams of light were visible at a distance of 15 kilometres; every fourteen seconds a new design was displayed as it arrived from the Internet.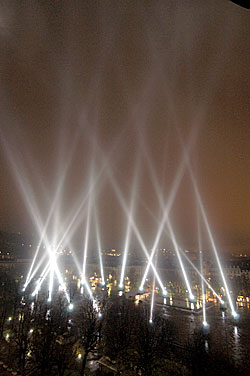 The installation "Vectorial Elevation" was presented for the first time at the Zócalo Plaza in Mexico City for the Millennium celebrations. More than 800,000 people from 89 countries visited the web site in a two-week period. In 2002 the project was set up again in the city of Vitoria-Gasteiz for the opening of the Basque Centre for Contemporary Art, Artium. The site was visited by almost 300,000 participants from 63 countries, who downloaded more than 3.5 million files. In December of 2003, the piece transformed the Place Bellecour in Lyon, France, for the UN's World Summit of Cities and the Fête des Lumières. In seven nights over 600,000 people visited the project with over 6.5 million web pages served.
The piece has received several prestigious Art awards, including the Golden Nica at the Prix Ars Electronica 2000 in Austria, a distinction at the SFMOMA Webby Awards 2001 in San Francisco, an Excellence Prize at the CG Arts Media Art Festival in Tokyo and a Trophée des Lumières 2003 in Lyon.
Dublin statistics:
Total number of hits (documents or images served): 19,330,372
Estimated number of unique visitors to the website: 522,442
Total amount of data transfered: 206 Gigabytes
Number of designs rendered in the sky: 14,364
Total number of countries were traffic originated: 100
Countries with more than 1,000 unique visitors:
25.74 % Ireland (.ie and eircom.net)
15.80 % Network domains (.net)
14.30 % Commercial domains (.com)
3.18 % United Kingdom (.uk)
2.04 % Netherlands (.nl)
1.15 % Canada (.ca)
0.84 % France (.fr)
0.69 % Australia (.au)
0.45 % Belgium (.be)
0.30 % Sweden (.se)
0.24 % Italy (.it)
0.24 % Japan (.jp)
0.23 % Poland (.pl)
0.20 % Finland (.fi)
0.19 % Brazil (.br)
0.19 % Germany (.de)
0.19 % Mexico (.mx)
(note: clearly there were many visitors from the United States, but they are mostly within .com and .net domains)
Countries with between 1,000 and 100 visitors:
Denmark, New Zealand, Switzerland, Spain, Austria, Norway, Romania, Hungary, Argentina, Czech Republic, Portugal, Croatia, Colombia, Estonia, Iceland, Israel, Lithuania, Singapore, Turkey, Chile, Cyprus, Greece, Hong Kong, Latvia, Luxembourg, Malta, Peru, Russian Federation, Slovenia, South Africa, and Uruguay.
Countries with less than 100 visitors:
Albania, Andorra, Angola, Antigua and Barbuda, Aruba, Belarus, Bermbuda, Bolivia, Bosnia and Herzegovina, Bulgaria, Cayman Islands, Christmas Islands, Cocos (Keeling) Islands, Costa Rica, Cuba, Dominican Republic, Ecuador, Egypt, Georgia, Guatemala, India, Indonesia, Kenya, Kyrgyzstan, Lebanon, Liechtenstein, Madagascar, Malaysia, Mauritius, Micronesia, Morocco, Nepal, Nicaragua, Niue, Oman, Paraguay, Philippines, Samoa, San Marino, Saudi Arabia, Seychelles, Slovak Republic, Solomon Islands, South Korea, Taiwan, Thailand, Tonga, Trinidad and Tobago, Tuvalu, Ukraine, United Arab Emirates, Venezuela and Yugoslavia.
Visitors by Language:
97.2 % visits to the English pages
2.8 % visits to the Irish pages (i.e. around 15,000 visitors chose to view the Irish site).
View the press release for Dublin.